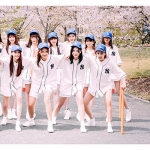 SNH48 Group continues with its tradition to deliver visually stunning music videos as it premieres "天晴了" ("Beautiful Day") on June 15th.
Covid-19 oblige, this is the first Spring MV to be filmed in a studio as opposed to a beach somewhere, but it is certainly not a dissapointment!
Editor's Note: SNH48 released a fourth version of the MV on June 16th. We have amended the original text to include that version.
An MV in four versions
It is not uncommon for SNH48 to release more than one version of an MV. That treatment is usually reserved to their elections related productions (pre and post), so it is not a surprise that the "天晴了" MV came in not one but four different versions.
First, we received the "Studio Version" on June 11th, 2020 (below).
We then got a surprise "Theater Version" (filmed in the Xingmeng Theater in Shanghai hence the name) during the official 7th General Elections launch ceremony on June 13th, 2020 (below).
We get the "Drama Version" (the one with a storyline) which you can watch from the official SNH48 Youtube channel at top of page.