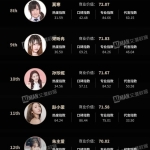 The "AIMan China Index" for the first half of 2020 have been released. This index tracks the business value of various artists over a specific period of time with "value" being determined based on their earning potential based on popularity.
This time, SNH48 Group members have taken a dominant position on the index by occupying 9 out of the top 20 spots with 7 in the top 10.
Why you may ask? Remember Covid-19 gripped China for the first half of the year with almost everything being canceled. Two big shows did, however, manage to go on: "Youth With You 2" and "CHUANG 2020". SNH48 Group members performed extremely well in both reaching very high in the eliminations and most reviewers agree STAR48 is the agency that is best poised to take advantage of the exposure generated.
Here are all the SNH48 Group members that ranked:
2. Xu JiaQi (Kiki) now with "THE9"
5. Dai Meng (Diamond) of Team SII
6. Zhao Yue (Akira) now with "Bonbon Girls 303"
7. Zhang YuGe (Tako) of Team SII
8. Mo Han (Momo) of Team SII
9. Song XinRan of Team X
10. Sun ZhenNi of Team HII
13. Su ShanShan of Team E
14. Xu YangYuZhuo (Eliwa) of Team HII