SNH48 Group fans from across China were converging on the city of Guangzhou on January 19th for the 5th Best50 Request Time Concert.
Each year, SNH48 Group allows fans to vote for the songs they believe are the very best out of the SNH48 music catalog. Fans can vote for a song but, also, on who are the members or teams they want to see perform that song.
Taking place for the very first time outside of Shanghai, the concert found a home this year at the Guangzhou GymnasiumGuangzhou GymnasiumIndoor arena in Guangzhou used as a concert venue and for sporting events such as arena football, basketball, badminton and table tennis. It was constructed between 11 February 1999 and opened on 30 June 2001, with a seating capacity of 10,000. Source: Wikipedia which is one of the biggest indoor concert venues in the city.
Over 600 songs from the SNH48 Group discography were in competition this year.
The show was streamed on Migu Music and Tencent Live Music for the domestic audience as well as on Youtube for international fans.
A brand new system

SNH48 Group continues to innovate this year as they introduce a new "grouping" system for the top 50 songs fans voted for. Each grouping was allocated a specific number of songs per category (see below).
TEAM SONGS
SOLOS
DUETS
UNITS
TOTAL (50)
GOLDEN
1
1
2
SUN
1
1
2
3
7
MOON
1
2
6
7
16
STAR
2
23
25
Each grouping (with "Star" being the lowest and "Golden" the highest) comes with increasing benefits in stage lighting, setup, costumes, and so on.
2019 winners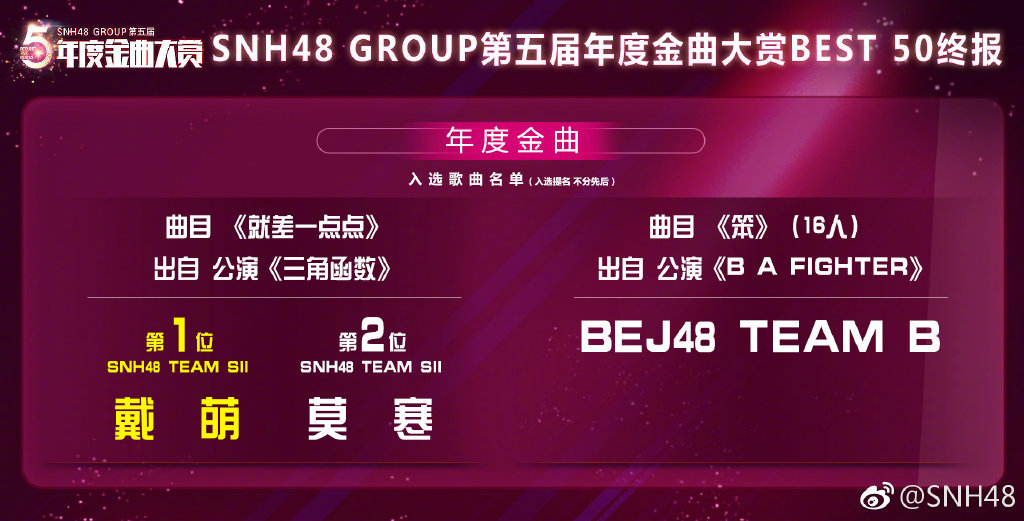 Top Unit Song: "就差一点点" ("Just a Little Bit") from the GNZ48 Team Z original stage "Trigonometric Functions" centered by Dai Meng (SNH48 Team SII) with Mo Han (SNH48 Team SII).
Top Team Song: "笨" ("Stupid") from the BEJ48 Team B original stage "B A Fighter" performed by Team B itself.
Let's look at the results by groups.
The official results have each group counted independently but we have chosen to make our listing from 1 to 50 (with 1 and 2 above). The bolded names indicate who was selected as center for each song.
Sun Group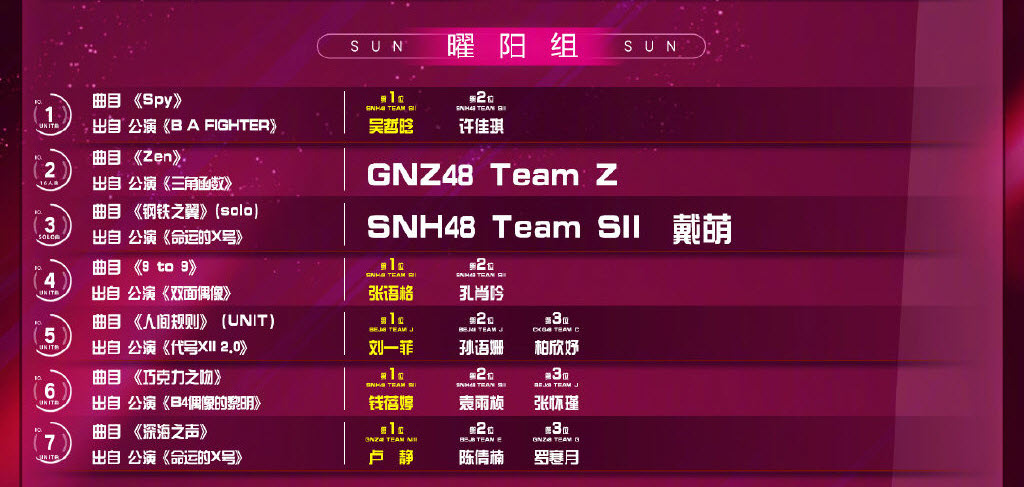 03. "SPY" – Wu ZheHan & Xu JiaQi
04. "Zen" – GNZ48 Team Z
05. "钢铁之翼" – Dai Meng
06. "9 to 9" – Zhang YuGe & Kong XiaoYin
07. "人间规则" – Liu YiFei, Sun YuShan, Bai XinYu
08. "巧克力之吻" – Qian BeiTing, Yuan YuZhen, Zhang HuaiJin
09. "深海之声" – Lu Jing, Chen QianNan, Luo HanYue
Moon Group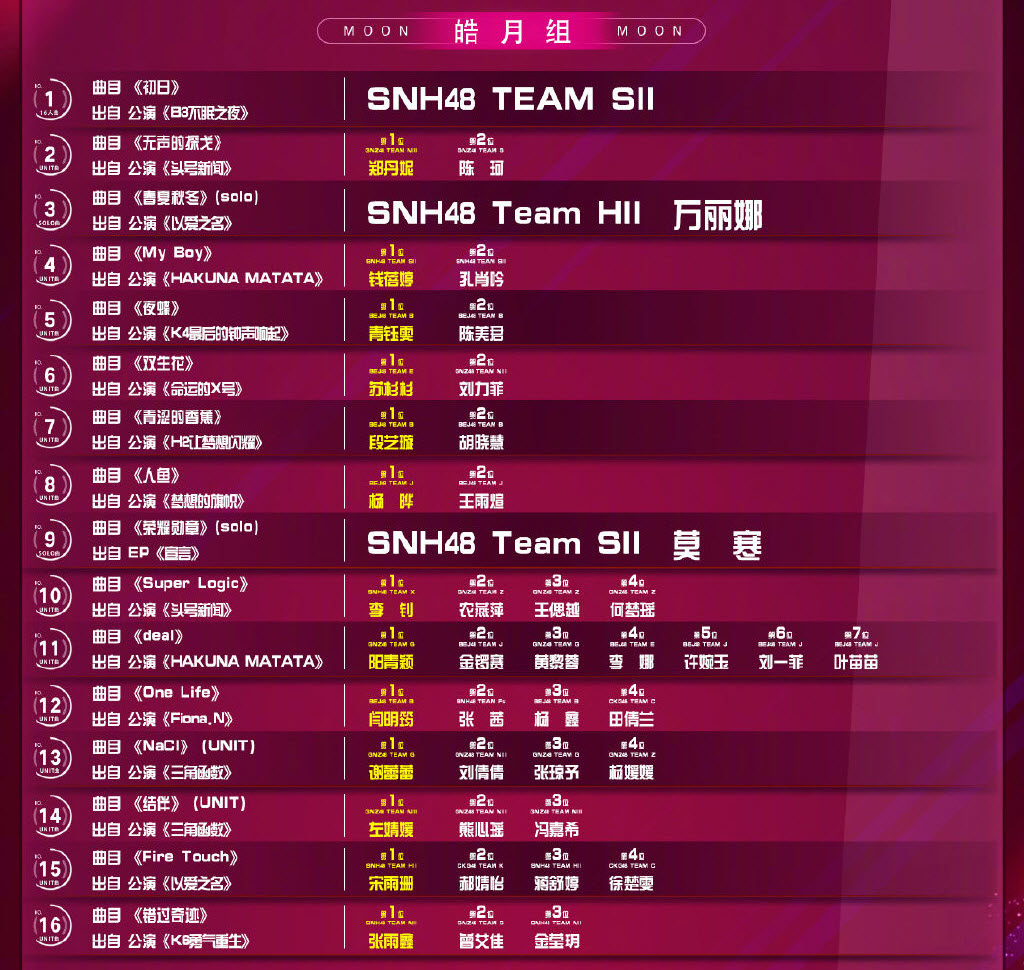 10. "初日" – SNH48 Team SII
11. "无声的探戈" – Zheng DanNi & Chen Ke
12. "春夏秋冬" – Wan Lina
13. "My Boy" – Qian BeiTing & Kong XiaoYin
14. "夜蝶" – Qing YuWen & Chen MeiJun
15. "双生花" – Su ShanShan & Liu LiFei
16. "青涩的香蕉" – Duan YiXuan & Hu XiaoHui
17. "人鱼" – Yang Ye & Wang YuXuan
18. "荣耀勋章" – Mo Han
19. "Super Logic" – Li Zhao, Nong YanPing, Wang SiYue, He MengYao
20. "Deal" – Yang QingYing, Jin LuoSai, Huang LiRong, Li Na, Xu WanYu, Liu YiFei, Ye MiaoMiao
21. "One Life" – Yan MingJun, Zhang Xi, Yang Xin, Tian QianLan
22. "NaCl" – Xie LeiLei, Liu QianQian, Zhang QiongYu, Yang YuanYuan
23. "结伴" – Zuo JingYuan, Xiong XingYao, Feng JiaXi
24. "Fire Touch" – Song YuShan, Hao JingYi, Chen XinYu, Xu ChuWen
25. "错过奇迹" – Zhang YuXin, Zeng AiJia, Jin YingYue
Star Group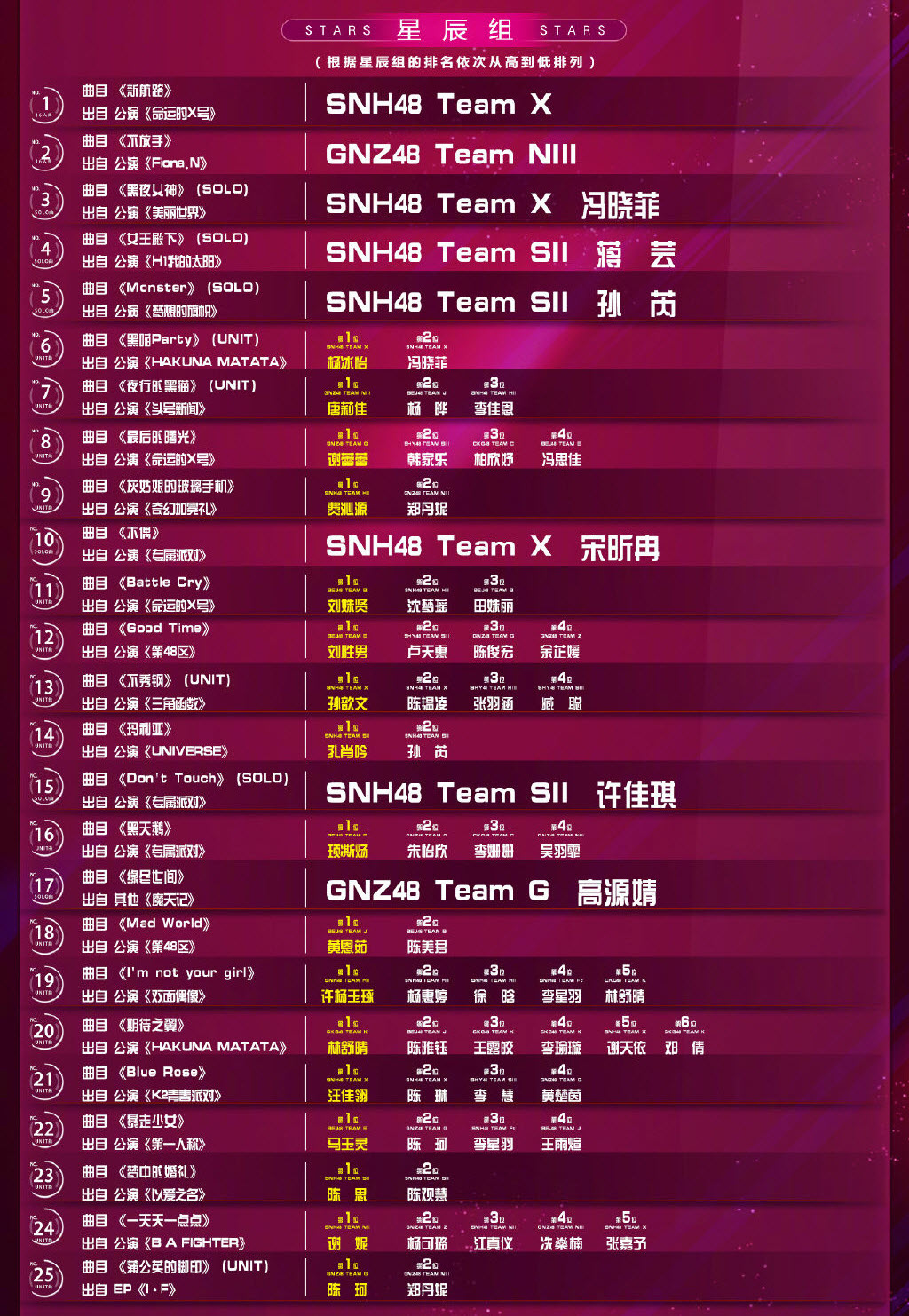 26. "新航路" – SNH48 Team X
27. "不放手" – GNZ48 Team NIII
28. "黑夜女神" – Feng XiaoFei
29. "女王殿下" – Jiang Yun
30. "Monster" – Sun Rui
31. "黑喵Party" – Yang BingYi & Feng XiaoFei
32. "夜行的黑猫" – Tang LiJia, Yang Ye, Li JiaEn
33. "最后的曙光" – Xie LeiLei, Han JiaLe, Bai XinYu, Feng SiJia
34. "灰姑娘的玻璃手机" – Fei QinYuan & Zheng DanNi
35. "木偶" – Song XinRan
36. "Battle Cry" – Liu ShuXian, Shen MengYao, Tian ShuLi
37. "Good Time" – Liu ShengNan, Lu TianHui, Chen JunHong, Yu ZhiYuan
38. "不秀钢" – Sun XinWen, Chen YunLing, Zhang YuHan, Zhang Cong
39. "玛利亚" – Kong XiaoYin & Sun Rui
40. "Don't Touch" – Xu JiaQi
41. "黑天鹅" – Xu SiYang, Zhu YiXin, Li ShanShan, Wu YuFei
42. "缘尽世间" – Gao YuanJing
43. "Mad World" – Huang EnRu & Chen MeiJun
44. "I'm Not Your Girl" – Xu YangYuZhuo, Yang HuiTing, Xu Han, Li XingYu, Lin ShuQing
45. "期待之翼" – Lin ShuQing, Chen YaYu, Wang LuJiao, Li YuXuan, Xie TianYi, Deng Qian
46. "Blue Rose" – Wang JiaLing, Chen Lin, Li Hui, Huang ChuYin
47. "暴走少女" – Ma YuLing, Chen Ke, Li XingYu, Wang YuXuan
48. "梦中的婚礼" – Chen Si & Chen GuanHui
49. "一天天一点点" – Xie Ni, Yang KeLu, Jiang ZhenYi, Xian ShenNan, Zhang JiaYu
50. "蒲公英的脚印" – Chen Ke & Zheng DanNi
New 7-member subunit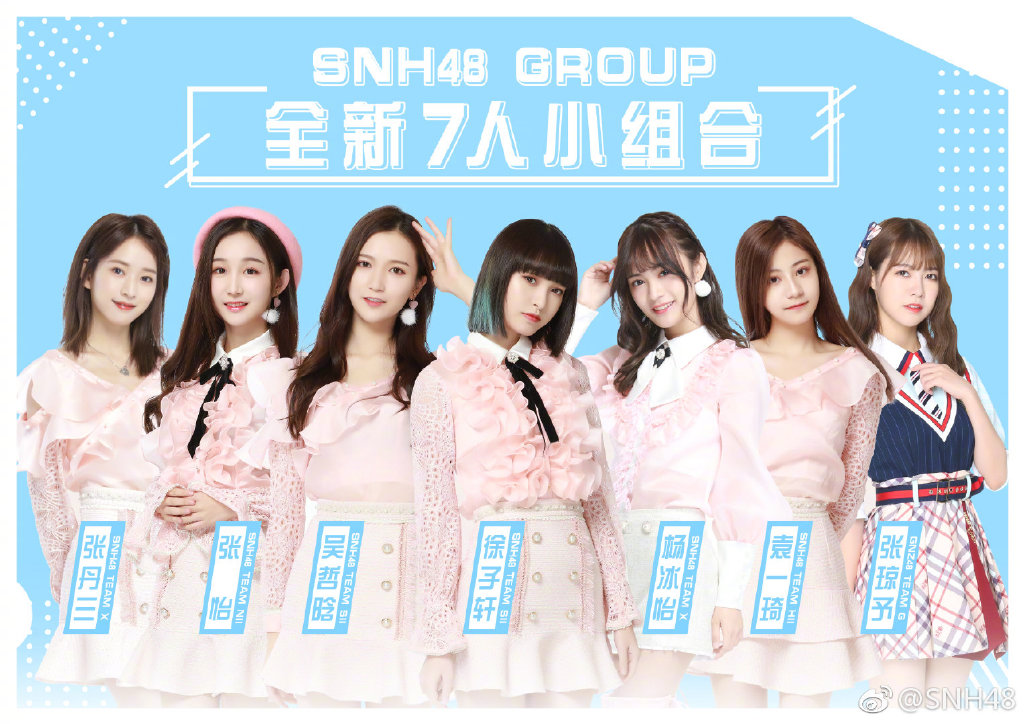 One of the anticipated moments of the evening was the reveal of the 7 members who had won the fan vote to join a new subunit.
The winners were:
1. Xu ZuXian (SNH48 Team SII)
2. Wu ZheHan (SNH48 Team SII)
3. Yang BingYi (SNH48 Team X)
4. Zhang Yi (SNH48 Team NII)
5. Yuan YiQi (SNH48 Team HII)
6. Zhang DanSan (SNH48 Team X)
7. Zhang QiongYu (GNZ48 Team G/SNH48 Team X)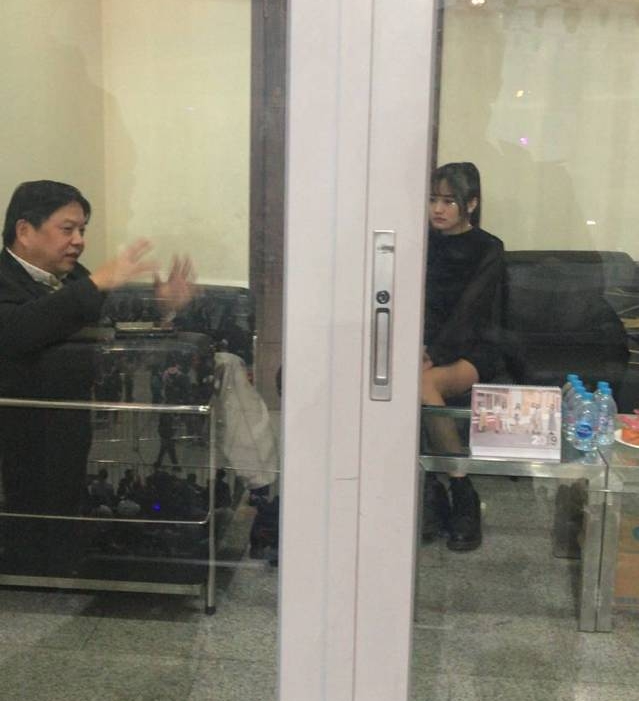 The final results generated a fair share of surprise in the assembled fans as the overall winner ended up being SNH48 Team SII member Xu ZuXian and several members who had been expected to be in the list suddenly vanished.
One such example was Zhang Xin, Co-Captain of SNH48 Team HII, who had been widely expected to appear in the final list of members of the subunit.
Fans on site reported that she had been seen in a private meeting with the President of STAR48 in what was no doubt a discussion on this turn of event.
Watch the announcement of the new subunit below.
New overseas trainees
One announcement that caught everyone by surprise was the unexpected news that several members from various groups between the ages of 16-18 would be departing for a 2 YEAR extensive training overseas!
It is believed they are being sent to train in South Korea at the training center announced last year by STAR48. They will be joined by new trainees recruited as part of the latest round of auditions who will all have to be between 16 and 18.
The members who were selected are: Gao Chong, Li JiaEn, Wang QiuRu, Xu JiaYin, and Zhou RuiLin.

Group reorganization!

The last part of the night was filled with dissapointment for many.
SNH48 Group confirmed the disbandment of sister groups SHY48 (Shenyang) and CKG48 (Chongqing) as well as the end of the SNH48 Team FT which had been created during the last shuffle in 2018.
Members of those groups were redistributed between SNH48, GNZ48, and BEJ48 with anyone not assigned to a team placed with a new "group" called "IDOLS Ft".
All the details of the group reorganization and shuffle will be covered in a followup article. Stay tuned!