June 1st, 2021 saw the premiere of the SNH48 Group new MV "怦然心动" which is the title track of their 30th EP. You can watch that video from the official "Pocket48" Youtube channel at top of the page.
Filmed in Xiamen, the MV features members of SNH48 and GNZ48 (the remaining official full sister groups). You can find the full list of members in the second photo to the right (click to enlarge).
Song XinRan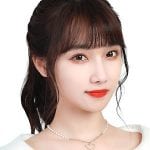 of SNH48 Team X is in the center position (3rd at the 7th General Elections) and it is interestingly the only bikini MV not actually filmed on a beach. In the past, SNH48 Group has gone to international beach locations for these MVs but, yet again this year, Covid-19 currently makes that impossible.
A little bit of controversy
Three things have drawn the ire of some fans regarding this latest MV.
First, the decision to leave out members of CKG48 and BEJ48 altogether was not popular. Yes, they are essentially no longer operating as full sister groups but not giving them any visibility at all reduces their chances of ever making it back to that level.
Second, STAR48 decided to make use of the MV for very, very obvious product placement of their new lines of personal care products in a jarring way.
Third, the creators left fans totally perplexed with an ending that does not match the rest of the MV and leaves the impression that there is a story left untold. It turns out that was the intent as, less than an hour after the premiere, SNH48 posted (see the tweet on the right) the announcement of a contest on Sina Weibo where fans are invited to write their own ending to the story. Although some fans like the idea, most agree it really ruins the MV.