Celebrate Summer with Mo Han (Momo) of AW9 (Honoured Graduate) as she gets ready to release her very 1st solo EP!
Although Mo Han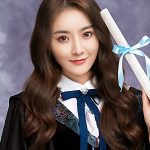 has released several singles over the last couple of years, this is the first official solo EP for her since her graduation from SNH48.
Titled "夏天的故事" ("Special Summer"), the EP will be composed of 3 songs: "固有符号" ("Be Myself"), "我想我记得" ("Only Remembered"), and the title track.
The songs will be released individually on Migu Music and Netease Music over the month of June with "Be Myself" on the 10th, "Only Remembered" on the 15th, and "Special Summer" on the 25th.