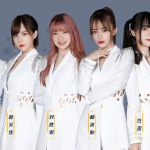 Filmed in China and set to a futuristic theme, the SNH48 Group Top48 "有你" MV has officially premiered on October 29th concluding the releases of MVs associated to the 6th General Elections.
Below is a gallery of all the participating members except for Xu ZiXuan of SNH48 who is now on hiatus (unofficial graduation).
You can find the full MV at top of page and the two teasers released on October 23rd and 24th below.